We believe the retail investor
and financial adviser are underserved
by the buy-and-hold philosophy
Meet your partner in wealth management

Flexible Plan Investments has been a firm believer in active management for more than 35 years. We know—and as an adviser, you may also believe—that dynamically risk-managed strategies can provide an appropriate alternative to passive buy-and-hold strategies. They react and adjust to market conditions, they seek to avoid extreme market highs and lows, and they smooth the way through volatile markets. While we know this, it may be a whole new world for your clients.
If it's time to introduce your clients to the concept of active risk management, we can help. Flexible Plan has created a 1-minute video you can use to explain the benefits of dynamic risk management at your next client meeting.
​

When your clients are ready to take the next step,
your Flexible Plan regional business consultant
is only a phone call away
​800-347-3539

A diverse portfolio helps ensure that no matter what happens—higher interest rates, low economic growth, or plain old market corrections—your client's portfolios have an additional layer of built-in protection.
How does true diversification work? Take a look at this short video to see what Flexible Plan means by strategic diversification.
​
Want to learn how to help your clients
build a strategically diversified portfolio?
Fill out the form below, and one of our specialists will contact you.


Flexible Plan Investments is a turnkey asset management program (TAMP). This means we have the know-how, support, and resources to take on most of the administrative and investment tasks you have to do for your fee-based business to survive. We do this so you can do more of the things you want to do to make that business thrive.


​

What we can do for you:
Help you create

custom

client

portfolios

from our many

dynamic risk-managed

strategies drawn from 10 different management style categories.

Equip you with innovative tools

to help you build client relationships, review and manage your business growth, and create new efficiencies within your business.

Provide materials to help you

and your clients set personal, customized investment benchmarks, and set and maintain realistic expectations.

Supply research tools

and weekly market insight to keep you ahead of the competition.

Provide industry updates

and support to enhance your sales and marketing efforts.

Provide access to a full-service client support staff

to facilitate changes to investments, provide support, and answer questions.

Deliver quarterly investment statements

and weekly market commentary to keep you and your clients informed.

Offer separately managed accounts (SMAs)

to allow you to manage multiple strategies for a client in one account—providing tax efficiencies, easier tracking, wrapped fees, and less paperwork.

Provide you with

a skilled and experienced sales support team to help you take full advantage of our many benefits.

Have you thought about how you plan to grow your business over the next year? We know this weighs on the minds of most advisers looking to stay ahead of the competition.
Because Flexible Plan is dedicated to the success of the advisers we partner with, we've developed 7 different ways you can grow:
Individual workplace retirement accounts:

Help your clients use separately managed accounts within their 403(b) and 401(k) accounts, including the use of the self-directed brokerage account (SDBA) option that is already part of their plans.

Group retirement plans:

Offer your plan-provider clients risk-managed investments within their pension and profit-sharing plan to help protect their employee participants against downturns in the market.

Variable annuities:

We can help you professionally manage client variable annuity investments.

Principled investing:

Meet client demands for values-based investment solutions—suitability-based, faith-based, and socially responsible options are available.

Small accounts:

Efficiently manage small accounts (less than $25,000).

Being a proactive adviser with our OnTarget Investing process:

Provide your clients with a process that sets and maintains their expectations while delivering a customized, personal benchmark for their portfolio or strategy.

The advantages of working with a turnkey asset management program (TAMP) using separately managed accounts (SMAs):

Harness the power of partnering with a TAMP and using SMAs. Free yourself of back-office tasks and spend time with your clients, all while building your business.
FEE-BASED BUSINESS
WEBINAR

When you partner with Flexible Plan, you get access to a powerful suite of adviser tools and resources. They are designed to help free you of back-office operational, investment-management, research, and marketing tasks—allowing you to focus on clients and developing your business.
Research reports: Never be left in the dark! Access historical market data, model and actual performance, and GIPS composite performance.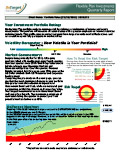 OnTarget Investing report: Help clients set and track personal, customized benchmarks and manage performance expectations.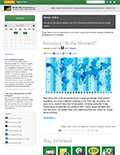 Market Hotline: Stay current with weekly market insights from Jerry Wagner (president and founder of Flexible Plan) and other industry professionals, review holdings, and check strategy performance.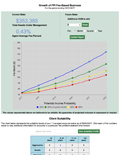 My Business Analyzer: View and manage your Flexible Plan client accounts while you project the growth path of your business in one easy-to-use dashboard.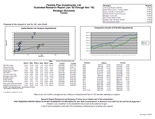 Illustration Generator: Combine strategies to see how the portfolio would have historically performed. Use the portfolio risk bonus score to see how strategic diversification lowers risk and potentially increases reward. Determine whether your portfolio is truly diversified, and crash-test it against various market regimes.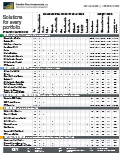 Marketing and sales support: Enrich your marketing and sales materials with our solutions matrix (a list of our 140+ strategies broken down by category and platform); strategy fact sheets; weekly market insights; interviews of other advisers using active management; content on the advantages of dynamic risk-managed investing and separately managed accounts; quarterly client updates; and more.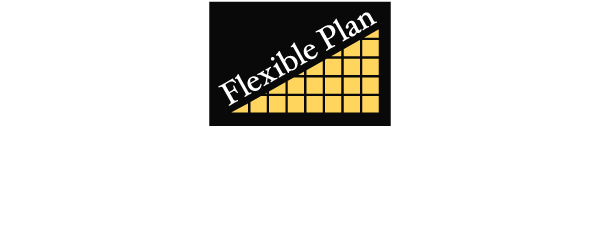 About Us
Since 1981, Flexible Plan Investments has been dedicated to preserving and growing wealth through dynamic risk management—in any market. We work with more than 600 broker-dealer groups and RIAs throughout the United States and invest nearly $2 billion in assets for clients in our separately managed account business (as of 6/30/18).
We are a turnkey asset management program (TAMP). That means we provide advisers with back-office services, including reporting and billing, client support, marketing communication, and investment management.
We use only independent custodians. On each, advisers can access and combine our many risk-managed strategies within a single account, eliminating the need for separate strategy paperwork.
Our fee-based, separately managed accounts can provide diversified portfolios of actively managed strategies within equity, debt, and alternative asset classes. This allows you or us, if you so choose, to build robust portfolios of strategies diversified by management style and asset classes designed to best survive the ever-present threat of investment black swans.
Our OnTarget Investing process for setting and maintaining client expectations is a part of every client experience. The process sets realistic, custom benchmarks for your clients' accounts and regularly measures their progress quarterly against their personal benchmark.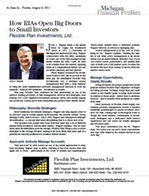 REASONS TO CONSIDER ACTIVE MANAGEMENT

As one prominent active manager said, "No one would ever jump into a car without brakes, so why would investors even consider having an investment strategy that did not have a strong defense?"
Risk first: ALWAYS
​
Active management seeks favorable risk-adjusted returns in any market environment, generally employing sophisticated algorithms and models to capture gains and protect against losses in a wide variety of sectors, asset classes, and geographies.
Active management defined
​
Behavioral finance studies have documented the tendencies of investors to operate on the destructive principles of "fear and greed." Disciplined active management takes emotion out of the equation.
Alignment with
investor psychology
​
While bull market runs are impressive, history shows it is not a matter of "if" but "when" the next bear market will occur. Investment expert Kenneth Solow sums it up: "Patiently waiting for stocks to deliver historical average returns does not rise to the level of an investment strategy."
Buy-and-hold
is dead(ly)
​
For retirees in particular, the "sequence of returns" dilemma can have a devastating effect on future income needs. Active management offers a prudent path to achieving the twin goals of asset preservation and compounded capital growth.
Does "set it and forget it" really make sense?
​
It takes longer than most investors think to recover from bear markets—a gain of 50% is needed to overcome a 33% portfolio loss.
Bear market math
is daunting
​
Working with Flexible Plan
Learn how Flexible Plan Investments can help you build your fee-based business in this 20-minute presentation.

Fill out this form and let us take it from here